Oven Glue – Repair your oven or range
door with this oven door glue kit
High Temperature Silicone Oven Glass Glue
Only $9.50 + $4.00 for fast shipping to any country
Click here to buy the Oven Door Glue kit on ebay
Or use the Buy Now button and pay securely through Paypal checkout for fast shipping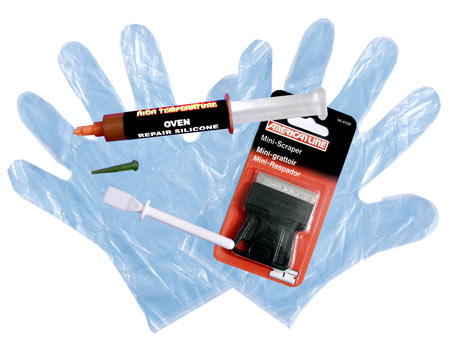 This oven door glue kit has been specially designed for the repair of glass oven and range door hinges / brackets and rubber oven door seals that have come unstuck. We also provide a larger kit for where the glass needs to be directly glued to the oven door and an adhesive bead around the full aperture is required. Please see our FAQs page for guidance on whether the larger kit will be needed.
As well as fixing metal brackets, hinges and glass in oven doors and as an oven seal glue, many customers have also used the kit simply where a high temperature adhesive is required. Excellent adhesion can be achieved with most plastics, rubber, glass, ceramics and metals (Please note that we do not recommend that it is used on copper).
This highest specification black silicone adhesive is suited to temperatures of up to 572º Fahrenheit, which is comfortably above most domestic ovens maximum temperature of around 500º Fahrenheit, however we recommend that you check the maximum temperature of your oven for suitability. Most epoxy type adhesives are totally unsuited to this task, for example Araldite typically has a maximum temperature of just 150º Fahrenheit and even specialist high temperature epoxy glues generally cannot be used above 300º Fahrenheit.
Contains:
Oven Glue – High Temp Adhesive, highest specification black high temperature silicone

Mini scraper to help with the removal of old glass adhesive

Adhesive spreader

Disposable gloves

Instructions
Use the Buy Now button to pay securely through Paypal checkout for worldwide shipping
Only $9.50 + $4.00 for fast, worldwide shipping